Seventh generation of Hendersons in the cattle industry in Canada.
Henderson Family have raised Canadian Aberdeen Angus since 1903
Doug Henderson started raising Angus at age 12 - 50 years an Angus Breeder and a life member of the Canadian Angus Association
Doug with grandsons Andrew & Payton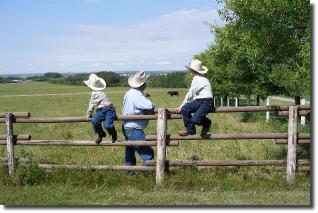 Henderson History
The Henderson family, John, his wife Alice and their young son, Tom, immigrated to North America in about 1872. Tom was only six years old at the time, as he was born in 1866 at Oxnam Roxburgh, Scotland, great sheep country south of Edinburgh. The Hendersons settled in the Bridgewater/Fontenell area of Southwestern Iowa but by the early 1900s, the need to expand and limited possibilities in their area pushed them to make the huge decision to move to Western Canada. In 1903, they brought with them to Lacombe, Northwest Territories, settlers effects, four Angus cows and an Angus bull. John Henderson is recorded as registering Sampson of Lacombe 7295T, born July 23, 1903, in the first Canadian Aberdeen Angus Herd book. B.A. Green, Fontanelle, Iowa bred this bull.
Tom Henderson and his son Sam Henderson started their herd in 1909, registering two animals in 1910. Their herd was known as Heatherbrook. Over the years, many top cattle were acquired from major herds in the U.S. A number of these especially the Earl Marshall bred cattle, are mentioned in a never before published article written by W.J. "Mac" McKeag. The Henderson's are now into the seventh generation raising Angus cattle in Canada, the oldest continuous Angus family in Canada.
Linda Henderson (nee Latimer) has been involved in the purebred cattle business, being involved in the work and promotion of Remitall Shorthorn and Remitall Hereford herds.
Doug has been involved in the Sale Management Business since 1970, having spent 15 years associated with Lloyd Pickard and Associates until 1985. From 1985 to now, twenty-six years, Doug and Linda have operated Douglas J Henderson and Associates Ltd.
The primary focus has been promoting purebred Black and Red Angus for breeders across Canada. Doug and Linda have also marketed semen from top bulls from North America for the past twenty years.
DJH has managed purebred livestock sales in many different breeds, Black and Red Angus, Simmental, Charolais, Gelbvieh, Blonde Aquitaine, Shorthorn, Polled and Horned Hereford, Salers, Maine Anjou and Chiania. Some of the highlights over the past years have been the very successful Cross Country/Cross Canada Select Black Angus Sale, many noted dispersal sales, Remitall Angus, Remington, Double AA, Botany, Willabar, MVF and many others. Also successful selected sales like the Angus, Charolais and Salers Agribition Sales, Keystone, BC Assoc. Sales, Masterpiece, Super Star and Black Magic were a pleasure to work on. Top production sales that DJH is currently involved in; Remington Land & Cattle, LLB Angus, Bowerman Bros., Atlasta Farms, Cooke Livestock, Saskalta, Brookmore, Fertile Valley, Triple J and the Georgian group, as well as promoting many more top Canadian herds.
From Henderson Cattle Co.'s moderate herd of cattle, they have raised or owned the Supreme Champion Bull at Edmonton Farm Fair 2007 and over the years had the good fortune to show the Champion Angus Bull, Reserve Senior Champion Red Angus Bull, Senior Champion Charolais Female, Grand Champion Gelbvieh Bull, Grand Champion Horned Hereford Bull at the Canadian Western Agribition. Champion Chiania Bull at the first National Chiania Show held in Saskatoon, SK, and a number of Champion and Reserve Champion bulls at the Lacombe bull sale. As well they have exported Black and Red Angus embryos to the U.K., Japan, Argentina and Russia.
Doug has judged many shows in different breeds. Both Doug and Linda completed the American Angus judging evaluation.
Doug and Linda are dedicated to the promotion of top livestock that work for you as well as helping to market and promote your operations to realize the optimal amount of return on your investment. It is not always about the highest price, but the longevity of your operation and herd.
This has always been done with the support of family, friends and like-minded livestock breeders with integrity and a passion to do a good job.